Here here some of my favorite webpages I like to visit. Please feel free to do so. I beleive you will like them.
These links are Coon Hunting related. Enjoy!!!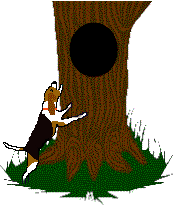 Search Engines
AltaVista You know us as the Internet's original search engine.
Lycos One of the most visited hubs on the Internet reaching one out of every two web users.
Yahoo! With over half a million sites divided into more than 25,000 categories, Yahoo! is both browseable and searchable.
InfoSeek GO Network is a new brand that brings together the very best of the Internet in one, easy to use place.
Favorite Sites
Dalton's Bluetick & English Kennels These are some guys I am in the Coon Club with and hunt with.
United Kennel Club For UKC nite hunts and bench show competition check here!
Professional Kennel Club This site is where the money is won while hunting. Check it out.
Coon Dawgs Another good coonhunting webpage.
Dan River Coon Hunting Assc. My hunting club!!
Coon Hound Central Another coon hunting site!
Hunting Supplies For all your hunting needs
Ruffin Coon Club Be sure to place a description of your link for your viewers here!
Coon hunting Message Board Place to buy or sale all kinds of hunting stuff